COVID-19 has become a worldwide menace and as of now, there is no cure or vaccine. With hand washing being one of the most effective ways of protecting yourself from the disease, errors in hand washing may likely increase your chances of contracting the disease.
This article seeks to examine some of the common hand washing errors.
Skipping soap
Some people tend to skip soap completely during hand washing. It is a known fact that the oil in your hands and the fatty materials in some germs may cause the germs to cling to your hands even after washing with running water alone. Hence the need for a soap.
Washing your hands without soap is synonymous to multiplying a number by zero in math.
Re-contamination immediately after hand washing
There is a problem with most hand washing kits used in public. After washing, you need to close the tap with your fingers and this can lead to re-contamination. Faucet handles, bathroom counters, and door handles are "hotspots" for germs. So it's recommended to use a clean paper towel to turn off faucets or a tap and also when opening the door.
Washing hands in a bowl filled with water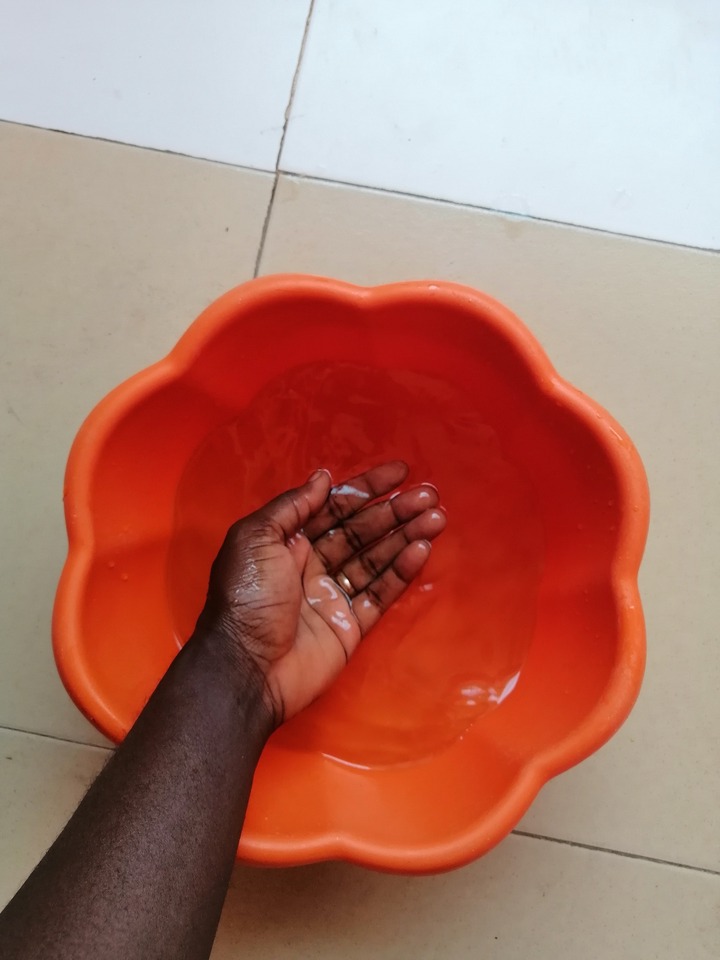 This is perhaps one of the commonest hand washing errors in most homes. Consider this: A father comes home after a hard day's work and walks straight to the dining table. While waiting to be served, his beautiful wife brings a bowl of water and soap for hand washing. The father tiredly smears soap on his hands and begins to wash his hands in the bowl of water. This practice is unhygienic as the germs you wish to get rid off remain in the water being used to wash your hands and hence will likely lead to re-contamination.
Quick hand washing
Some people tend to quickly wash their hands under 5 seconds. This means germs are likely to cling to their hands even after hand washing. In a typical Ghanaian home, most staple foods like yam, plantain, fufu, banku etc are eaten with the fingers and are at times consumed in groups. Most Ghanaian people, upon entering a home and being invited by a group eating fufu in an earthenware pot, are likely to quickly rinse their hands with water for about two seconds (without soap) in order not to miss majority of the food being eaten by the group. This practice is as infectious and dangerous as eating from a waste bin.
Not washing your hands at the right time when you should
It is common for people to wash their hands with water and soap immediately after visiting the toilet because it is well known as a habitat for germs. However, there are some things that do not prompt for immediate hand washing but are not far from leading to infectious diseases. Raise up your hand if you always wash your hands properly before eating mangoes and apples. Put your hand down, you're lying. Even during this COVID-19 era, where people are motivated to wash their hands consistently, I gave a bunch of bananas to ten people and all of them forgot to wash their hands before peeling off the banana. These practices may unknowingly lead to infections.
Missing germs hideouts
Germs are likely to thrive in nooks, crannies, and other hard-to-reach areas. So when washing your hands, it's important that you spend time washing out the areas between fingers and underneath nail beds, where germs are most likely to be hiding. When you put on rings, germs are likely to hide in them so it's important to wash these areas properly.
The above practices are likely to increase one's chances of contracting infectious diseases, including the COVID-19 pandemic. Hence the need to properly wash your hands with clean running water and soap and don't forget to dry your hands with a clean unused paper towel.
Source: Michael Osei-Owusu | Mickinet Systems